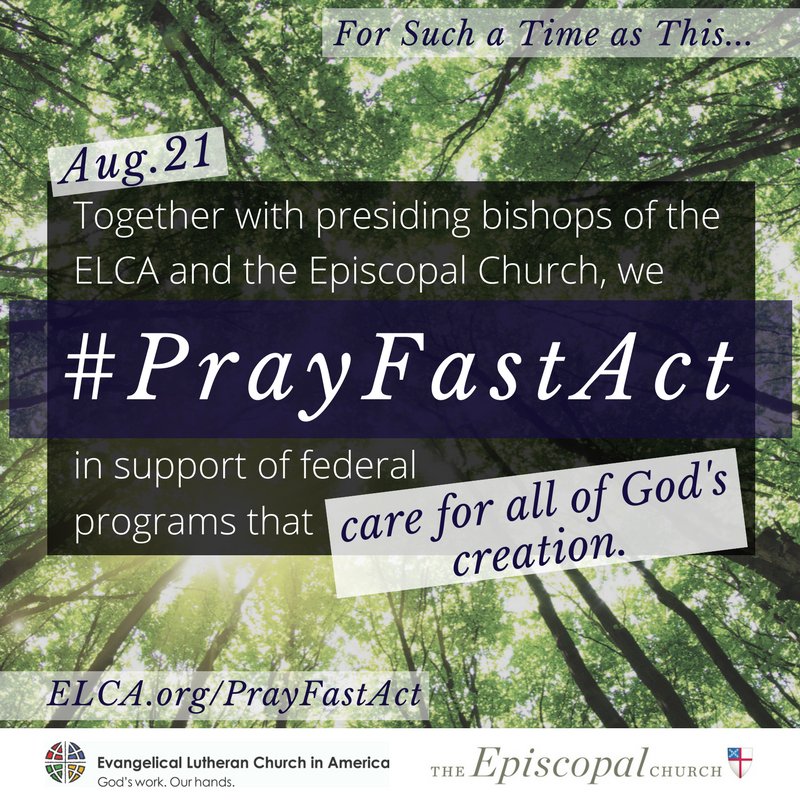 In May, presiding bishops of the Evangelical Lutheran Church in America and the Episcopal Church issued a call to Pray, Fast and Act in support of federal programs that are vital to hungry people struggling with poverty. This month we answer their call by urging action to protect funding for domestic and international programs that provide relief from and remedy the health effects of environmental degradation impacting the livelihood of the poorest among us the most.
ON AUGUST 21, JOIN ELCA ADVOCACY AND PRESIDING BISHOPS OF THE ELCA AND THE EPISCOPAL CHURCH AS, TOGETHER, WE: 
PRAY for our nation's elected leaders and for all who struggle with the impacts and effects of environmental degradation that results in hunger, poverty and death;
FAST to call attention in our own minds and actions the needs and circumstances of those suffering from the impacts of air and water pollution, chemical exposure and natural disasters; and
ACT by urging our elected representatives to continue funding crucial programs that care for all of creation by addressing environmental degradation and its impact around the world.
---
As Lutherans, we are called to "seek sufficient, sustainable livelihood for all," and to ensure that all of God's children are cared for, no matter where they live. The United Nations Environment Programme (UNEP) Healthy Environment, Healthy People 2016 report showed that "in 2012, an estimated 12.6 million deaths globally were attributable to the environment. The air we breathe, the food we eat, the water we drink, and the ecosystems that sustain us are estimated to be responsible for 23% of all deaths worldwide. The figure increases to 26% for children under 5 years and to 25% for adults between the ages of 50 and 75." As a church together, let us lift our voices and ask our members of Congress to protect funding for domestic and international environmental programs that provide care for all Creation.
Here's how to equip yourself and your congregation to #PrayFastAct on August 21:

Read the August advocacy resource to learn how ELCA Advocacy is urging the U.S. government to address the needs of vulnerable and marginalized populations around the world. Share this resource with your congregations!
Encourage your community to pray, fast and advocate together by sharing this message on your congregation's e-news.
Visit ELCA.org/PrayFastAct to watch a message from The Rev. Elizabeth Eaton, presiding bishop of the ELCA, and read the joint call to prayer, fasting and advocacy.
Read the 2016 UNEP "Healthy Environment, Healthy People" report and a letter expressing USEPA's leaders' concern over cuts to environmental programs.
Look out for the #PrayFastAct action alert on Friday, August 14 and join us as we pray, fast and advocate together.
For more advocacy opportunities, visit Advocacy.ELCA.org. Thank you for your dedication and leadership on this important issue!