Today is the first day of the United Nations Conference on Climate Change (#COP21). 150 heads of state are gathered in Paris to negotiate an international agreement to address climate change around the world. They are joined by hundreds of leaders and people of faith who are working and praying for an agreement that protects God's creation and supports those who are most heavily impacted by the effects of our changing climate. Please read below for important updates and information on what to look out for in the next 12 days of COP21!

Nearly 1.8 million people of faith demand climate action
Thousands of Lutherans joined 1,780,528 million people around the world in putting their names to faith-based petitions urging political leaders at the climate summit to "take decisive action to curb global warming and deliver a strong, fair deal that helps poor countries adapt to their changing climate."
On Sunday, Nov. 28, the petitions were presented to the UN Framework Convention on Climate Change Executive Secretary, Christiana Figueres at the 'Faith in Climate Justice' event in Paris. This event was organized by four international faith-based networks, including ACT Alliance, of which the ELCA is a member. Read ACT Alliance's press release here and check out a video from the event here!
President Obama addresses heads of state
Earlier today, President Obama gave remarks at the first session of COP21. In his address, he stated that "the growing threat of climate change could define the contours of this century more dramatically than any other." You can watch his address here or read a transcript of the speech here.
Follow ELCA Advocacy and partners in Paris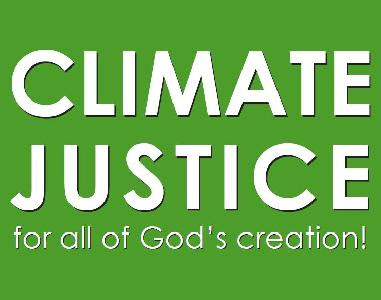 Our very own Interim Director, Mary Minette, arrives in Paris on December 5 to participate in the summit on behalf of ACT Alliance. Make sure to visit our ELCA Advocacy blog to keep up to date on what she is up to! Mary will be joined by a number of partners from ACT Alliance, World Council of Churches, Lutheran World Federation, as well as ecumenical partner church leaders. Follow ELCA Advocacy on Facebookand Twitter for highlights of their activities as well!
Read Mary's recent Living Earth Reflection to hear more about ELCA Advocacy and our faith community's goals for COP21 and the international climate agreement. You will also learn how you can take action in support of those traveling to Paris for the summit by sending a message to national leaders or pledging to reduce your own carbon footprint. 
Fast for the Climate on 

December 1
Join with people of faith from all over the world tomorrow, Dec. 1 for a one day Fast for the Climate! What is Fast for the Climate? "We are a global movement, and since Yeb Saño's historic fast during the Warsaw talks in 2013, we have grown and grown. Fast with us for 24 hours from the evening of 30 November, skipping breakfast and lunch on 1 December. As Heads of States meet in Paris, our united fast as one human family can give political momentum to the negotiations. We fast to show our hunger for action by our governments – and our will to act ourselves." Fast for the Climate is supported by a number of organizations, including The Lutheran World Federation, World Council of Churches, and ACT Alliance. Learn more about Fast for the Climate by clicking here. 
Please also pray for all who are participating in events in Paris! Thank you and look out for additional updates soon!



Support ELCA World Hunger | ELCA Advocacy

This email was sent to members and friends of the Evangelical Lutheran Church in America.

To update your email address or your communication preferences, please click here.
To ensure that you continue to receive these emails, please add us to your address book or safe list.